SSP is a premier manufacturer of high-quality instrumentation fittings suitable for use in a wide range of applications. The lines we supply are Unilok, Duolok, and Griplok, each of which features distinct design and operational characteristics.
In this blog—the first of a multi-part series highlighting our instrumentation fittings—we'll provide the key points and unique aspects of our three instrumentation tube fitting lines.
Unilok Tube Fittings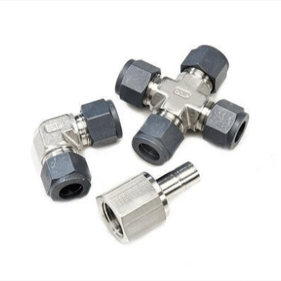 Unilok fittings are designed and built for leak-proof connections in instrumentation and process tubing systems regardless of the tubing material, hardness, and wall thickness. Their design consists of three precision-machined components—a body, ferrule, and nut—that work together to provide reliable performance.

Their performance characteristics include:
Pressure capacities equal to the maximum pressure ratings for the tubing recommended for use with fittings
Operating temperatures ranging from -325° F to 1200° F (note: higher temperatures lower the maximum working pressure capability of the tubing system)
Elimination of torque transfer between the tube fittings and tubing during installation
Depending on the requirements and restrictions of their end application, customers can purchase Unilok tube fittings in sizes ranging from 1/16 to 1 inch and materials such as 316 stainless steel, Alloy 400/405, Alloy C-276, brass, and carbon steel.
To view our full offering of Unilok products, click here.
Duolok Tube Fittings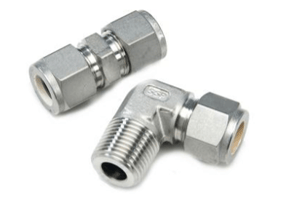 Duolok tube fittings feature a double-ferrule design consisting of a body, front and back ferrule, and nut. The introduction of the back ferrule adds more axial pressure on the front ferrule and, in turn, the angular portion of the body. The section between the front ferrule and the body is where the lift-to-seal action takes place. The back ferrule caps the seal and locks the tubing against the fitting, leaving a slight gap that allows for vibration, thermal expansion and contraction, pressure pulses, and other variables that could disrupt the seal or damage the fitting.

Duolok fittings are available in Alloy 400/405, Alloy C-276, brass, carbon steel, and 316 stainless steel in sizes from 1/16 to 2 inch. No matter the material, they offer reliable operation even in extreme temperatures.
Our comprehensive selection of Duolok tube fittings can be found here.
Griplok Tube Fittings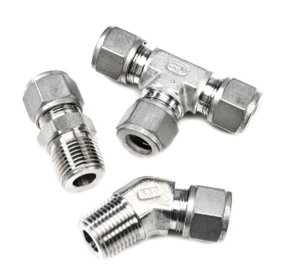 Similarly to Duolok fittings, Griplok tube fittings feature a double-ferrule, four-component design. However, the ferrules interact differently with the tubing material to create a leak-proof seal. In these fittings, the front ferrule creates a metal-to-metal seal against the fitting body, while the rear ferrule locks onto the outside diameter of the tubing, holding it in place.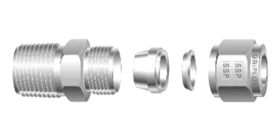 They come in 316 stainless steel, brass and Alloy 400 and sizes ranging from 1/16 to 1 inch to suit different application environments.
Complete details and specifications for all of our Griplok fittings are available here.
Quality Instrumentation Tube Fittings From SSP
Whether you choose our Unilok, Duolok, or Griplok tube fittings, you are guaranteed optimal performance. All of our tube fitting components are manufactured and finished to tight tolerances and subjected to rigorous quality control standards. Additionally, all of our fittings are completely interchangeable with other leading tube fitting brands, such as Hoke Gyrolok®, Swagelok® and Parker Hannifin®.
Since our founding in 1926, SSP has developed into the largest single-site, vertically-integrated manufacturer in the industry. Located in Cleveland, Ohio, our 165,000 square foot manufacturing facility holds all of our manufacturing and assembly equipment, including closed die forging, tool and die design, product development, and testing machines. Additionally, it is the base for our entire staff, including our manufacturing, executive, and customer service teams.
If you have any questions about our instrumentation tube fittings, reach out to us today.