There are a number of benefits to buying products manufactured in America. One of the most commonly agreed upon is quality. American made products are viewed by consumers as being of higher quality than their second and third-world manufactured counterparts; with good reason, most often they are. When companies produce products in the US, they can have complete control of every aspect of the product, from design to packaging. They are manufactured to rigorous standards in plants that are required to abide by numerous rules and regulations. Products made abroad aren't always subject to that scrutiny.
Companies that manufacture in the US provide consumers

with the highest-quality product possible. They make products that will last for years, products free from defects and imperfections. Outside of the US, manufacturing facilities often do not develop the institutional knowledge or infrastructure that leads to a maintainable high quality product. Similarly, executive focus is harder to maintain when manufacturing sites are halfway across the world, so companies begin to neglect the importance of upholding their manufacturing and supply chain networks to the standards supported in the US.
American manufacturers invest more in advanced plants and technology, which gives them an advantage in manufacturing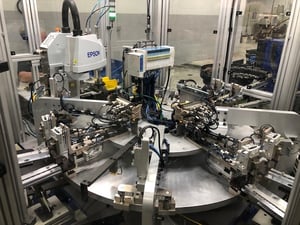 quality and accuracy. At SSP more than 80% of our products are machined on equipment that is less than five years old. We specifically look for equipment that is on the leading edge of technology, machines that are versatile and precise, have few touch points (for safety), and are easier to train on than older machines. We also choose which processes are manual vs. automated. Machines perform mundane tasks with precision and repetition humans cannot match. For example, the proper orientation of a quarter-inch back ferrule "nested" inside a nut, will be ensured by meeting at least 20 dimensional orientation verifications prior to being assembled onto a tube fitting body. The same is true for front ferrule orientation. This ensures an accurate ferrule and nut orientation in every tube fitting assembly.
American manufacturers also invest more in their personnel. We provide safe working environments, favorable working conditions, and robust medical benefits so employees can focus on making high-quality parts instead of worrying about their personal health and safety. When going offshore to find cheap labor, manufacturers are not making investments to complement domestic production, they are replacing it. Creating a long term competitive advantage requires investment into your machining and people, not just a shortsighted attack on labor costs. Workers in other countries who do not receive the benefits associated with the American labor force are often tired, overworked, unhealthy, underpaid, and underappreciated, leading to work product lacking in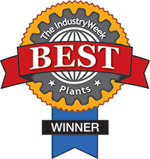 quality and precision. At SSP we have over 7 million man hours recorded without a lost-time injury. We have a world-class facility where employee safety and well-being is our number one priority, this allows our personnel to focus on making products of the highest quality. (Additionally, our facility was recognized by IndustryWeek as a 2019 BestPlants Winner. Please follow this link for further information!)
At SSP all of our products are manufactured in America and is performed in our 165,000 sq. ft. facility located near Cleveland, Ohio. Our facility is the largest vertically integrated, single-site operation in the industry. When you purchase SSP products you are never sacrificing quality. When you pair that quality with our world class service, a delivery score of 99.8% on time to promise date and a 100% American made product, one thing is for sure, buying SSP is good business.


To learn more about what SSP can do for you, contact us today.