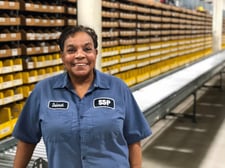 Recent disruptors have resulted in serious challenges for supply chain management. The pandemic, accompanied by shortages of numerous materials, created headaches for nearly every industry. Because of this, businesses have been implementing strategies to adapt to changing customer demands while maintaining speed of operations. Companies with innovative and nimble supply chains are quick to invest in advanced competing technologies and adopt new partners to ensure on-time deliveries during supply chain disruptions.
On-Time Delivery Amidst Supply Chain Disruptions
On-time delivery, often referred to as OTD, aims to keep customers satisfied by fulfilling promised ship and delivery dates. To achieve successful OTD services, companies must establish practices that eliminate the risk of products shipping late. These practices include everything from maintaining raw material inventories and realistic production schedules to monitoring efficiency levels, building strong relationships with suppliers, and more.

At SSP, we strive to build relationships as opposed to impersonal transactional interactions. In addition to providing the highest quality parts, we are dedicated to building a smooth and efficient supply chain that allows customers to receive orders on time. Throughout the current supply chain disruptions, we've managed to maintain a 99.7% on-time delivery percentage compared to 99.8% in 2020. Our customers can place an order and do not need to think about it until they receive it.
With our sophisticated logistic strategies, we can:
Ship most stocked items the next day
Have a lead time for out of stock items between three days and four weeks
Provide vertical integration – we keep everything under one roof, eliminating the need to wait on external processes
American Made Means Quick Turnaround
When searching for products that can be delivered with quick turnaround times, it's very important to consider the location of the manufacturing site. Many companies have placed their manufacturing operations overseas, which can lead to issues amid supply chain disruptions.

While offshoring can reduce labor costs, it creates a major vulnerability in supply chain reliability. At SSP, all of our products are made in the United States to eliminate these external risks. Our domestic supply chain allows us to provide dependable delivery times on all of our goods.

Buying American gives us the ability to have enhanced quality control and establish a more reliable supply chain. Additionally, it allows us to reduce costs and shorten lead times, resulting in better products and faster service for our customers.
Improving Supply Chain Performance
While global supply chain problems will probably ease in the coming year, volatility from unexpected events will always remain. Manufacturers simply cannot wait for supply chain bottlenecks to solve themselves. They need to make strategic partnerships while also adopting enterprise resource technology (ERP) to overcome logistical challenges and create the ideal supply chain.

It is our goal to become a dependable partner in your company's supply chain. We routinely partner with innovative companies to ensure that our products get delivered on time. By working with American suppliers, we are well protected from black swan events that hinder global supply chains. When purchasing products from SSP, you are not only buying American, but you are also receiving superior-quality products on time.

To learn more about what SSP can do for you, contact us today or request information.