SSP was recently featured in Business in Focus Magazine. The article, titled, "An American Manufacturing Success Story", highlighted our commitment to product innovation in response to satisfying all our customers' needs.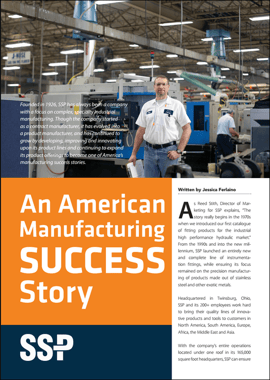 SSP was founded in 1926 in Twinsburg, Ohio and the company initially started out as a contract manufacturer. Since its establishment, SSP has grown into a product manufacturer with 200+ employees who all value excellence in their work. Our goal is simple, to provide value and an excellent overall experience to our customers.
As part of this vision, SSP is a leading advocate of United States manufacturing: all of our products are made 100% in the USA—in fact, everything is done in our 165,000 square foot headquarters.
Our services include, but are not limited to the following:
Product design
Tool design
Manufacturing
Forging
Machining
Assembling
Testing
Packaging
Shipping
Our ability to house all our services in one location results in excellent communication and coordination across the entire company, allowing the production of top-notch performance that gained recognition by Business in Focus Magazine.
At SSP we understand that quality service begins from within our own business. In accordance with our belief in sustaining American jobs, we focus as much on our employees' welfare as on our customers' satisfaction. SSP places importance on providing wellness initiatives for all employees and their spouses.
Our commitment to quality service continues beyond our employees and extends to our greater community. Every quarter at SSP we focus on a new charity effort through employee volunteer initiatives and donations. It's how we show our gratitude for the people and places that make SSP possible.
Our commitment to making things better is what has given us our reputation "for quality, innovation and excellence." At SSP we adhere to all of our customers' expected standards, and we are focused on making products that are better than these standards. . Our technical staff is constantly working to innovate and improve our product offerings, from easier turning handles to simpler and safer installation instructions and product markings
Regardless of the complexity of the problem, our focus is to provide the right solutions and products for our customers. Please contact us today to find out more about how SSP can serve you.