Quick connect fittings are a type of connector that is used to join fluid lines with equipment. Also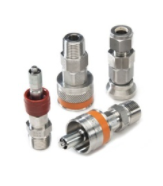 referred to as quick couplings, they are designed to be easy to use without tools and connect with a simple push. Quick connect fittings are used within hydraulic or pneumatic systems, especially in applications that are time-sensitive and need a fast way to connect lines without losing any fluid pressure. This blog post will discuss some types and their capabilities.
Types of Quick Connect Fittings
There are several types of quick connect fittings. Some of the most commonly used ones are:
Push to connect. Working similarly to ball and sleeve connections, push to connect fittings function by pushing one end into the other. To disconnect, a collar needs to be retracted.
Ball and sleeve. This type of connection features a retractable sleeve that connects coupler halves. The male ball end fits into the female outer sleeve. SSP carries FloLok® Quick Connects, which are a type of ball and sleeve fitting.
Cam-lock. This type uses foldable tabs on the female half to lock the receiver in place. This type of connection is used in applications involving hoses, such as sewage pumping or fire hoses.
Luer lock. Luer locks connect by twisting into place and are typically made for single usage purposes. Their most common applications are within the medical field.
Twist or bayonet.

Twist or bayonet fittings utilize a 1/8 to 1/4 turn to connect and disconnect.
SSP carries push to connect and ball and sleeve quick-connects that work in many types of applications. Our quick connects come in several end connections and coupling types.


DESO Quick Connects
Double-end shutoff (DESO) stem quick connects have valves that close when they are uncoupled. These shutoff valves allow fluid pressure in the system to be retained even when the system is disconnected. This is especially useful when working with expensive or flammable gas. There are DESO quick connect types for high-pressure applications and also for standard pressure applications. High-pressure DESO quick coupling types are used in applications involving compressed air as well as hydraulic and water systems. DESO quick connects can be made in a variety of sizes from materials such as steel, stainless steel, or brass.


SESO Quick Connects
Single-end shutoff (SESO) stem quick connects have only one valve to prevent gas or fluid from escaping. Typically, only the socket side shuts off on these couplings, which prevents fluid leakage. This type of connection is used in low-pressure applications and comes in several types, such as female thread, male thread, and hose end.


Full Flow Quick Connects
Full flow quick connects allow for the fast connection and disconnection of attachments without the use of tools. This type provides full flow capacity so that there is no reduction in flow volume or rate. Full flow quick connects provide a leak-free seal and are rated for a range of temperatures and pressures.


Quick Connect Fitting System Connections
After you've selected the appropriate quick connect fitting for your application, the next step is to consider what the other end of the coupler will connect to. There are a variety of different system connection types available, such as:
Compression. Compression fittings function by connecting to tubing and then tightening a nut over tubing and ferrule. Quick connect couplers made for this type of connection feature open female threads with cavities for compression rings or ferrules.
Thread. Thread connections are the most common type for quick coupler systems. They can be used for hose, pipe, or tube connections.


Quick Connect Fittings at SSP
Quick connect fittings are easy to use and function well in many types of systems. SSP offers a wide selection of connection types and is an expert at finding solutions for even the most challenging applications. To find out more, view our quick connect products or contact us with any questions.