SSP is excited to announce that we have renewed the type approval of our Instrumentation Tube Fittings (Duolok, Unilok, and Griplok) with the American Bureau of Shipping (ABS).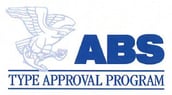 So what does this mean? Achieving ABS Type Approval for a product grants immediate benefits to a manufacturer, including reduced administration and a greater potential for market penetration. Once type approved, these products are available for selection by ship designers, builders and owners for use aboard an ABS-classed vessel, Mobile Offshore Drilling Unit (MODU) or facility.
To better support our distributor partners and end user customers, SSP has been working to expand our ABS Type Approval to our valve products. For the better part of two years, SSP's Director of Technical Services Engineering, has been working with ABS and we can now announce the approval of the following valve lines:
Needle Valves – 100 Series, 600 Series, LN Series
Metering Valves – 500 Series
Ball Valves – 300 Series, EB Series (316 Stainless only), FB Series, TB Series
Check Valves – 4000 Series, CH Series
Plug Valves – PV Series Rotary Plug Valves, LP Series Rising Plug Valves
Other Valve Products – 4900 Series Purge Valves, BV Series Bleed Valves, 200 Series Toggle Valves, 3000 Series Tee Filters, 3100 Series In-line Filters, QF Series Quick Couplings
John Comi is the Director of Continuous Improvement. He has been with SSP for 18 years.