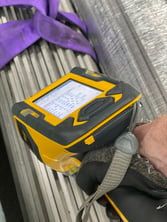 Stainless steel refers to a vast selection of steel alloys that contain at least 10.5% chromium. A few of the most popular grades of stainless steel are 304, 316, and 430—the first digit signals the family and the last two indicate type. Each grade contains varying levels of alloying elements that contribute to its corrosion resistance, flexibility, weldability, strength, magnetism, and other physical and mechanical properties. Common alloying elements include silicon, carbon, nickel, manganese, and molybdenum.
SSP specializes in 316/316L stainless steel tubing and pipe fittings. Learn more about this versatile stainless steel grade and how it compares to other grade families.
Stainless Steel Grades
Based on the ratios of different metals in the alloy, there are four main types of stainless steel: austenitic, ferritic, duplex, and martensitic.
Austenitic Stainless Steel
Austenitic stainless steel primarily contains chromium and nickel, though some grades also contain magnesium and molybdenum. These combinations provide excellent resistance to creep and corrosion. The most popular grades are 303, 304, 310, 316, 316L, and 321.
SSP primarily manufactures 316 and 316L stainless steel. Both contain about 2-3% molybdenum as an alloying element, which helps the metals resist corrosion from chloride and other chemicals. However, 316L has a lower carbon content—no more than 0.03%—that helps prevent carbon precipitation during welding applications. 316 stainless steel contains as much as 0.08% carbon.
Both grades are ideal for leakproof, corrosion-resistant tube fittings in critical applications, such as the aerospace, defense, automotive, petrochemical, maritime, and public utility industries. Our line of industrial tube fittings are uniquely designed to provide tight, reliable seals in corrosive environments. Our instrumentation tube fittings come in three models, each of which can be interchanged and mixed with other fittings in most analytical instrumentation applications.
Ferritic Stainless Steel
Ferritic stainless steel contains some combination of chromium, niobium, molybdenum, and/or titanium. This family of stainless steel is extremely tough and highly resistant to corrosion and creep. Magnetic, weldable, and cost-effective, these alloys are commonly used in the production of dishwashers, kitchen sinks and food processing equipment. Common grades of ferritic stainless steel include 409 and 430.
Duplex Stainless Steel
Combining the properties of the austenitic and ferritic families, duplex stainless steel possesses good formability and weldability. Depending on project requirements, customers often order grades such as 318L, LDX 2101, LDX 2304, 2507, and 4501. (The "L" indicates low carbon content, while "LDX" denotes a low nickel, lean duplex alloy.)
Martensitic & Precipitation Hardening Stainless Steel
Martensitic stainless steel is less commonly used compared to other families. Nevertheless, they are ideal for applications that require hardened, precise edges and high strength. These alloys retain their magnetic properties and corrosion resistance after hardening. Frequently used martensitic and precipitation hardening grades include 410 and 420.
Stainless Steel Grades Chart
For an in-depth look at the compositions of 316 and 316L stainless steel, the following chart provides more detailed information.
| | | |
| --- | --- | --- |
| Grade | 316 | 316L |
| Chromium | 16.5-18.5% | 16.5-18.5% |
| Carbon | 0.08% | 0.03% |
| Molybdenum | 2.0-3.0% | 2.0-3.0% |
| Silicon | 1.0% | 1.0% |
| Manganese | 2.0% | 2.0% |
| Phosphorus | 0.045% | 0.045% |
| Nickel | 10.0-13.0% | 10.0-13.0% |
| Sulfur | 0.015% | 0.015% |
| Nitrogen | 0.1% | 0.1% |
| Iron | balance | balance |
The Right Stainless Steel from SSP
No matter what your tubing requirements are, SSP can provide you with the highest quality stainless steel tubing on the market. In certain cases we also offer dual grade tubing, which means that alloys with similar physical properties and slightly varying chemical properties—such as 316 and 316L—are engineered to favor the grade with better chemical properties. This is just one of the ways we work on behalf of our customers to exceed expectations.
SSP specializes in delivering timely and cost-effective tubing solutions for every application. We're happy to work with you to identify the best options for your project and lend additional expertise to help you optimize production. Contact us today for more information about our stainless steel grades and tubing.