In Part 1 of our instrumentation tube fittings series, we outlined the differences between our Unilok, Duolok, and Griplok fittings. Each of these fittings were developed with clear, specific goals in mind: to provide safe and reliable connections and to intermix and interchange with other tube fittings from approved manufacturers.
Interchange and intermix can be confusing to those who are unfamiliar with the concepts because the available information is often contradictory. To provide a little context, some manufacturers claim that it is absolutely impossible to create a safe, reliable tube fitting if interchanging or intermixing, others claim that tube fittings are safe to interchange but cannot intermix, still others claim that interchange and intermix is an acceptable practice if certain measurements are common in all components.
In this blog, we hope to demystify interchange and intermix—specifically their differences, as they are not one and the same.
Interchange
Interchange is the combination of the nut and ferrule system from one manufacturer with the body of another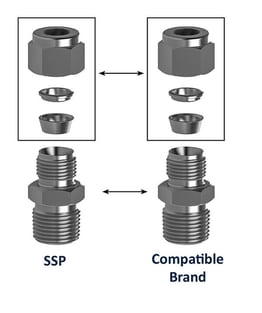 manufacturer. Situations calling for interchangeability typically occur when only a portion of an instrumentation tube fitting must be replaced. For example, a user replacing a damaged tubing run may wish to retain a tube fitting ended valve and replace only the tubing.
The user in this scenario would need to seek replacement tubing and a new nut and ferrule system. With interchangeable components, the user needs only to assemble the tubing with the manufacturer's new nut and ferrules and follow proper installation instructions, the valve may remain, cutting down the cost of the repair.
At SSP, we can assist our customers with the selection of interchangeable components that will perfectly correspond with fittings from other manufacturers. This makes it easy and more cost effective to replace tubing, discard old end connections, and improve the overall system with new and reliable parts without discarding current inventory.
Intermix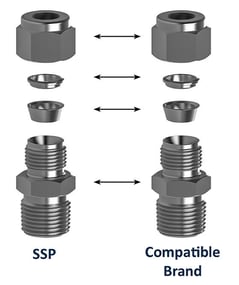 Intermix uses any combination of tube fitting components from compatible brands. This practice is one of the simplest ways for users to achieve safe reliable connections without waiting on long lead times, increasing their overall spend, or having to discard current inventory.
Some manufacturers will tell you that intermix can be dangerous, and we agree. However, if the proper precautions are taken and installation instructions are carefully followed, intermix can be a safe and reliable practice.
The truth is that the risks associated with intermix can easily be minimized, at SSP we design and manufacture our tube fittings to precise specifications and tolerances under rigorous quality control procedures maintaining that the geometry between SSP fittings and the competitors brands' parts are identical.
SSP: Your Partner for Interchangeable and Intermixable Fittings
The simplest way to remember the processes of interchanging and intermixing:
Interchanging uses one manufacturer's nut and ferrule system with another manufacturer's body to build a single tube fitting assembly.
Intermixing uses a varied mix of two different manufacturers' components to build a single tube fitting assembly.
Many of our customers opt to interchange and intermix their tube fitting components in order to get the maximum value from their spend. SSP's tube fittings are designed, manufactured, and quality controlled with utmost care to ensure complete interchange and intermixability with compatible brands of tube fittings. Our fittings are interchangeable with major brands such as Swagelok­®, Parker Hannifin®, and Hoke®. If you're looking for a quick reference, here is how SSP's fittings interchange and intermix with compatible brands.
Contact us today to find out more about interchanging or intermixing with SSP components, or for more information about any of our instrumentation tube fittings or valves. We're happy to address any questions that you may have.