Valves and fittings play a critical role in fluid handling and processing systems across a wide range of industries. Due to the important function they serve, it is essential to find quality components as well as to partner with a reliable supplier. Otherwise, there is an increased risk of parts not performing to the expected standards and/or lead times extending beyond the original delivery estimates. Additionally, a subpar supplier may provide little to no product resources, training, or technical support, which leaves customers to figure everything out on their own.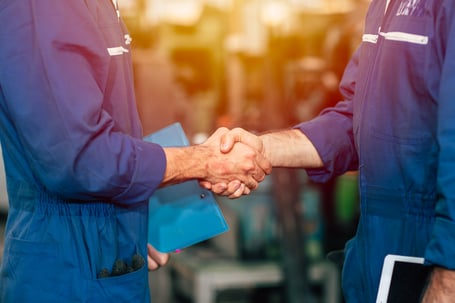 In this blog, we aim to shed light on some of the red flags to watch out for in a fitting and valve manufacturer.
They Don't Have Up-to-Date Certifications
Most part manufacturers will list their upheld certifications and standards on their websites. However, these certifications may not be current or applicable by the time you access them. That's why we recommend asking a potential supplier partner whether their certifications are active. They should be able to validate their claims with documentation of their most up-to-date certifications.
Several key certifications to look out for and validate include:
ISO 9001: This widely recognized standard establishes the guidelines for quality management systems.

RoHS/REACH: RoHS establishes restrictions for the use of specific hazardous material found in electrical and electronic products. REACH establishes guidelines on the collection and assessment of chemical substances' properties and hazards.

PED: The Pressure Equipment Directive (PED) establishes guidelines on the design, manufacturing, and conformity assessment of pressure equipment and assemblies with maximum allowable pressures higher than 0.5 bar gauge.

ASTM F 1387: This standard establishes the performance characteristic requirements for mechanically attached fittings used in piping and tubing systems.
In addition to all of these standards, SSP is certified to many other standards, such as CRN, ABS, ECE R110, DNV, CSA, and TUV.
They Don't Tell You the Truth About Interchanging & Intermixing Parts
Interchanging means that compatible component configurations from one brand can be combined with components from a different brand to form a complete, working fitting assembly, while intermixing means that individual components from one brand can be used as replacements for components from another brand in a compatible fitting assembly. Some fitting and valve manufacturers will tell you that interchanging and intermixing parts is wrong. Some of the consequences of interchanging and intermixing they claim will happen include equipment leakage, machine failure, and decreased quality, among others.
However, each of these are simply allegations that are not true and do not occur when interchanging and intermixing is properly done (i.e., components are manufactured from the same materials to the same tolerances with the same machinery, and tested to the same criteria). SSP valves and fittings are designed and manufactured to be perfectly compatible with many competitor brands, including Swagelok®, Parker Hannifin®, and Hoke®.
Read more about interchanging and intermixing here.
They Are Not Transparent About Quality, Performance, and Delivery
If you are currently working with a fittings/valves manufacturer, consider whether they are transparent and factual when communicating their quality, performance, and delivery promises.
At SSP, we are upfront about our quality, safety, delivery, and service standards:
Quality
Only 20% of products manufactured on machines greater than five years old
Zero product liability claims in 95 years of operation
Millions of successfully installed products in applications across the world
Safety
Hundreds of training seminars provided to customers and non-customers each year
All fitting and valves bagged individually to facilitate cleanliness and installation
Seven million man-hours without a lost-time accident
Five-time winner of the Forging Industry of America (FIA) Safety award
Delivery
99.8% on-time to promise date
Most in-stock items available with next day shipping
Three-day to four-week lead times for not-in-stock items
Service
Global distribution network of carefully vetted
Over 400 local stocking distributor locations
SSP distributors carry a broad selection of complementary products and maintain a team of factory-trained local representatives
SSP website offers access to a host of installation and maintenance instructions
SSP engineers provide assistance in system design
Choose SSP for Your Valve and Fitting Needs
While some valve and fitting manufacturers may not have updated certifications, tell you the truth regarding interchanging and intermixing, or offer transparency when communicating their quality, performance, and delivery metrics, SSP does. Guided by our company's core values—quality, safety, delivery, service, and distribution, our team is dedicated to providing you with the parts you need, when you need them. By partnering with us, you benefit from our:
Domestic manufacturing operations. All of our products are made in America, which translates to better quality or shorter lead times.

Commitment to excellence and improvement. We won IndustryWeek's Best Plants Award in 2019. The award honors manufacturing facilities that demonstrate a commitment to achieving multifaceted excellence and continuous improvement.

To learn more about our valve and fittings products, contact us today. To discuss your instrumentation requirements with one of our experts, request a quote.